We Believe Adventure is Transformational.
It feels amazing to 'send' that hard project or summit under splitter skies. Girth Hitch is all about sharing adventures that guarantee challenge and growth.
Your journey to transformational adventure has always been our focus.
We Believe Adventure is Transformational.
It feels amazing to 'send' that hard project or summit under splitter skies. Girth Hitch is all about sharing adventures that guarantee challenge and growth.
Your journey to transformational adventure has always been our focus.
Mountain GIANTS ALWAYS CHALLENGE US, & That is a good thing, because Adventure Makes You Better.
Built upon the belief that adventure can be transformational, let Girth Hitch Guiding take you on a life-affirming journey through the ancient mountains of the Canadian Rockies. Based out of  Nordegg, Alberta we thrive on introducing outdoor enthusiasts – from beginners to experts – to our beautiful mountains.
Our approach to guiding is guest-centric and strives to bring the best out of everyone we work with. We believe that mountains are not something to be conquered but rather ancient friends to discover and experience. Our years exploring the mountains has taught us that being amidst the giants provides far more than mere fitness and adventure; we have discovered that our time in the mountains nurtures us holistically and spiritually and challenges us to be more than we thought we could be.
Join Tim and his team to find the sweet spot where challenge and growth come together to offer profound opportunities for personal development. We believe that transformational adventure focuses on creating a safety net in which real success and failure can occur. No guide can shelter you from those realities while exposing you to challenge. At Girth Hitch Guiding we embrace failure and success while fostering safe and meaningful experiences in the mountains.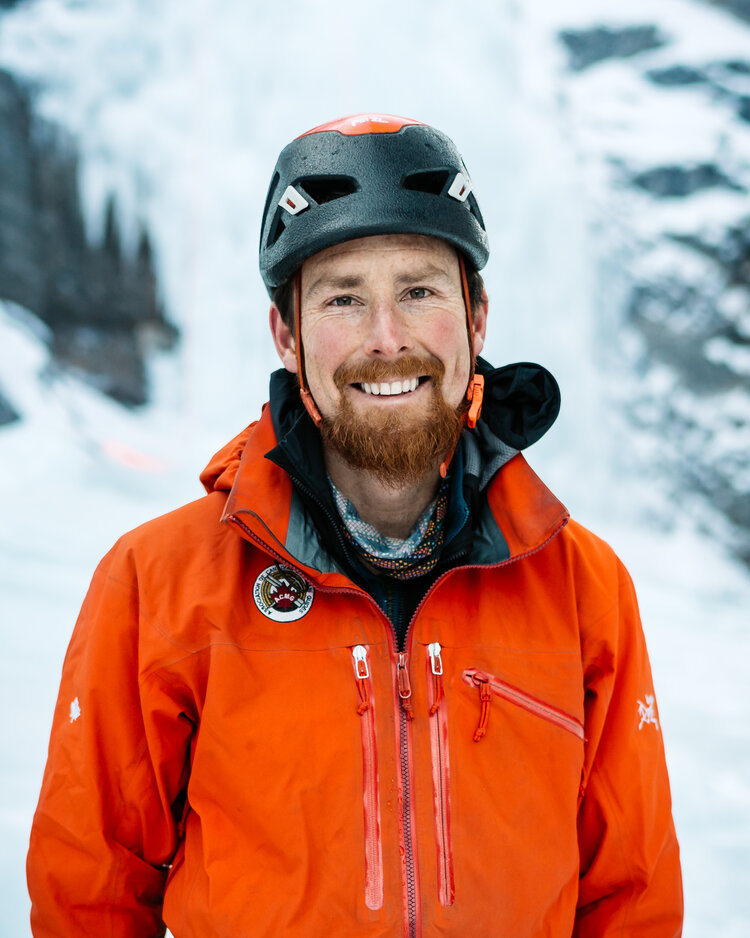 ACMG Alpine Guide
ACMG Rock Guide
Adventure Medic Wilderness First Aid
Canadian Avalanche Association ITP Level 2
Canadian Avalanche Professional Member
Avalanche Canada AST Instructor
Outdoor Council of Canada: Field Leader, Overnight, Winter, Instructor Trainer
As principal owner of Girth Hitch Guiding and a proud Métis man, Tim Taylor's heritage is aligned with the stories and legends of the Canadian Rockies. His passion for the mountains he calls home is rooted in his cultural background.
"My first outdoor climbing experience was unexpectedly powerful. I remember attempting to climb a route for hours without success, as I was patiently coached by a trustworthy climbing leader. Eventually, after hours of attempting the route something clicked and it all came together. My first climbing victory was about much more than climbing a route. At sixteen, I unconsciously learned that I was capable of far more than I ever dreamed or imagined. I learned that failure was the gateway to success and that it was valuable to 'try hard at things that are hard'. This experience, and others like it, began to shape me as an individual. Climbing was the venue, but patience, care, and intentionality, on the part of the coach were the recipe.
Years later I found myself caught up in the rat race. A homebuilder in the middle of a building boom chasing the next dollar and working for clients whose name I would never know. I remember having a moment of clarity in which I realized that I wanted my life to be about building up people rather than buildings; thus began my journey into mountain guiding.
I have spent the majority of the last two decades seeking excellence, learning, failing, and sharing journeys. Nothing is more fulfilling than walking with people as they encounter challenges and overcome them."
Did I mention that it's all about the journey?
"The best part of my journey is coming home to these amazing adventurers. I consider it a great honor to parent these four little people with Liz.
In our home, adventure plays a key role. I admire the passion Liz has, to safely expose our children to challenge and adventure. We see these crazy kids becoming fun and competent people, as they choose to embrace wild experiences. Maybe we will see you on the trail or at the crag!"
The Girth Hitch Team
While you may be relying on the expertise of Tim to lead you up the mountain, there are many other facets to the operations which require the input of a few more fine folk. To meet the rest of the GHG team click here.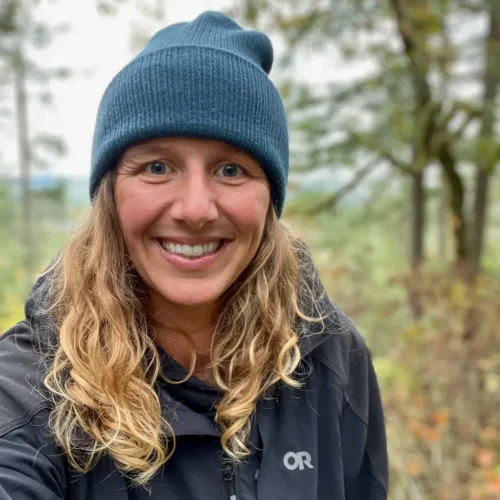 NICOLE BARRETT
Living near the ocean is where I learned to appreciate the outdoors, but stepping out of my comfort zone in the mountains is where that appreciation deepened. When a summer job at an outdoor adventure centre overflowed into passion and lifestyle it became clear that there's power in intentional shared experiences in the outdoors. We can be transformed by those experiences when we're willing to engage. I love to explore nature with my young family, and I am excited to encourage and enable others to get outside too. I can't wait to connect with you and get you ready for your adventure with GHG!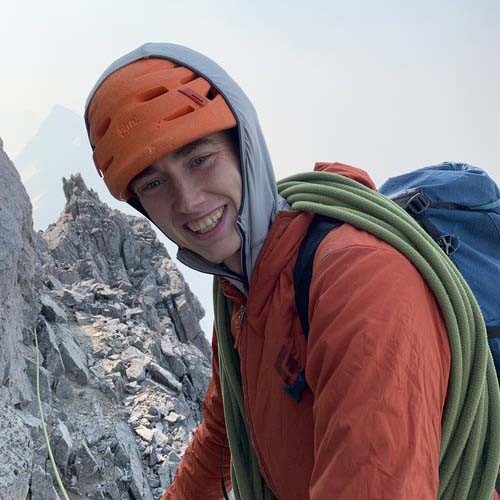 ETHAN WOODSIDE
Currently an ACMG Apprentice Rock Guide, Ethan is planning on working through the ACMG mountain stream with the goal of becoming an ACMG/IFMGA Mountain Guide in the future. Rock climbing, mountaineering, ice climbing and skiing are all favourite pastimes and provide goals for the next season.
Ethan's eagerness to introduce new people to climbing is unparalleled and he strives to help all climbers reach their goal regardless of size or difficulty. Whether you want to climb a mellow multi pitch, try out climbing for the first time with friends or improve your skills Ethan will ensure you have a safe and memorable experience.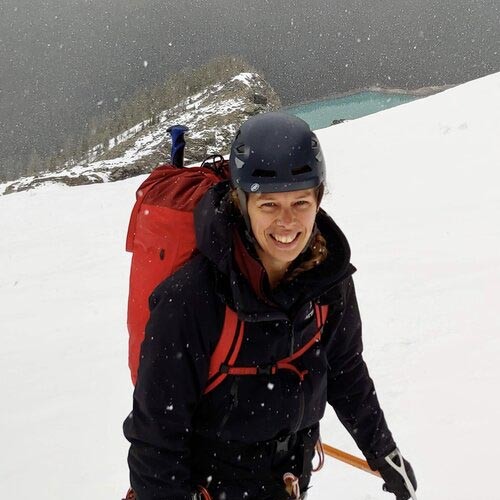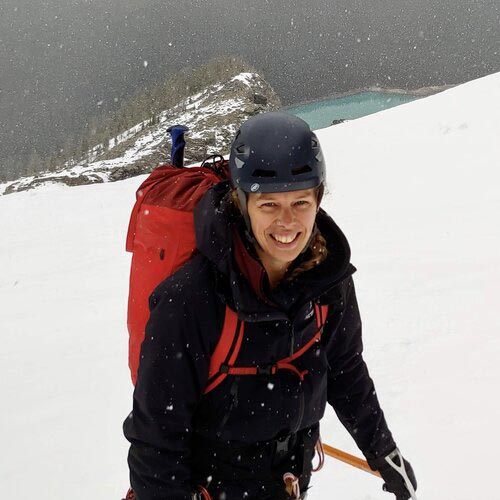 LIZ TAYLOR
I am a mountain mother. My experiences in the mountains have shaped who I am today, and now that I'm a mama, I have the privilege of seeing that transformation happen in the lives of my kids. Raising adventurous kids, who are becoming more confident and capable in the mountains everyday is one of my greatest joys.
As Tim's wife, my role with GHG is behind the scenes – you'll most likely find me herding our 4 kids out the door for some "adventure school", coffee in hand.
JORDYN HANSEN
I grew up running wild through the David Thompson Corridor. Fast forward twenty five years and I still crave the presence of those giants, only this time I'm climbing. I began climbing in 2015 and more seriously in 2017 after a back injury made being tied to the end of a rope very appealing. The mountains are the only place I truly feel free. Sharing experiences with and teaching people how to move safely through the mountains is my life's calling. I am so stoked to be part of the GHG team and can't wait to get after it with you.