Alberta Ice, Rock, Alpine, & Via Ferrata Climbing Guides
Come Adventure
with us!
Learn To Ice Climb &  Rock Climb. Climb a Via Ferrata in Nordegg. Plan a big Alberta Rockies apline objective.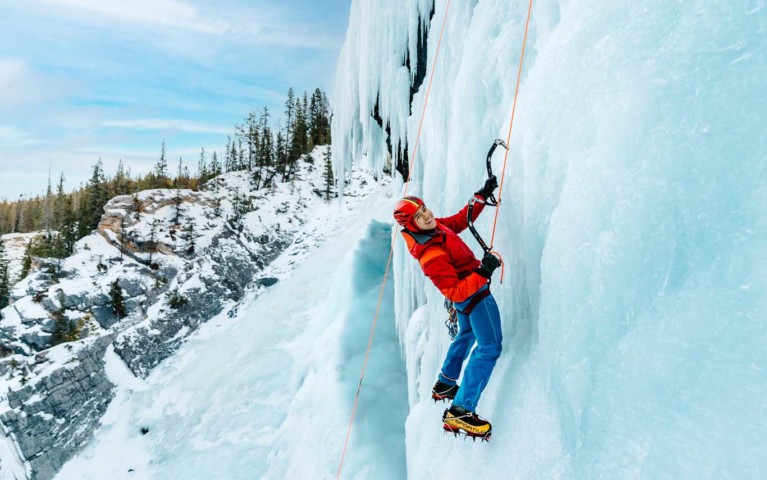 Alberta Ice, Rock, Alpine, & Via Ferrata Climbing Guides
Come Adventure with us!
Explore By Adventure Type
WE BELIEVE ADVENTURE IS TRANSFORMATIONAL.
Our approach to mountain guiding is centered around you, and bring out your best while adventuring with you in the mountains.
Our years of climbing and exploring the majestic mountains have taught us that being amidst those giants provides far more than just physical fitness and adventure; we have discovered that our time spent in the mountains has a profound effect on our overall wellbeing, both in a spiritual and holistic sense. The mountains also challenge us to exceed our expectations on both an individual and collective level, pushing ourselves to be better than what we initially thought was possible. We want this for all out our guests. 
If I could give 6 stars I would!
I have been a customer of Girth Hitch Guiding for the past 3 years and what an amazing experience it has been. Tim Taylor and the GHG team have provided outstanding guidance, leadership, and training. Tim is not only an expert at teaching how to move in the mountains, but also an inspirational person who I admire. I can't recommend GHG enough!
    
From my first day out with Tim, I knew I had met someone extraordinary. He knew exactly how hard to push me, gently but confidently pulling me out of my comfort zone, and enabling me to discover aspects of myself, previously left untapped.
    
I can't recommend learning with Tim enough. He is exceptional at teaching the logic of technical rope systems and passionate about encouraging clients to reach their goals and beyond. Tim stands out in his profession through his emphasis on "transformational adventure." Every session with Tim was an opportunity to grow – physically, psychologically and personally.
    
Start Your Adventure with these Guiding Services in the Alberta Rocky Mountains!
ACMG Certified Guides in the Alberta Rockies
Rock, Ice, Alpine, & Via Ferrata Guide focused on Nordegg Alberta.
Find the sweet spot where challenge and growth come together to create profound opportunities for personal development. At Girth Hitch Guiding we foster safe and meaningful experiences in the mountains where ever we take guests in Alberta. We love seeing guests grow on a one-day adventure trying ice climbing while traveling through the David Thompson Country as much as we like planning a big objective guiding a guest up one of Alberta's famed 11,000 foot peaks.
We also love the joy a group of friends experience the first time they get to climb a Nordegg Via Ferrata together – whether it is the easier 'The Fox' or harder 'From Nordegg with Love'. Via Ferrata is such a great, accessible mountain activity you can do in David Thompson Country, it is a must try activity in the mountains!
Do you want to make the jump from climbing gym to outdoor climbing at the crag? We have programs teaching climbers from all over Alberta how to lead climb, clean and efficiently deal with climbing outdoors in Nordegg. We can also advance to placing and leading on gear while traditional climbing in the Rockies, and annually in our camp in Skaha, Penticton, BC. 
Where do we Guide CLients on Mountain Adventures?