Girth Hitch Guiding is excited to announce our new partnership with another great tour company found in the spectacular David Thompson Corridor. Rockies Heli Canada is a locally owned, iconic tour company situated at the foothills of the Canadian Rocky Mountains. For over 15 years, Rockies Heli Canada has been providing visitors with a unique and memorable experience of soaring above the majestic Canadian wilderness in their 6 passenger A-Star Helicopter. With its comfortable interior, state-of-the-art navigation system and expansive windows, passengers can enjoy breathtaking views of the Rocky Mountains and the surrounding area.
Rockies Heli Canada operates year-round, they know the mountains well and are sure to showcase some of the most spectacular views. Rockies Heli Canada and Girth Hitch Guiding have worked alongside each other for a few years now, and Girth Hitch Guiding is thrilled to collaborate with them this summer, to provide our guests the opportunity to experience an incredible new helicopter-assisted mountain adventure for visitors to the David Thompson Country.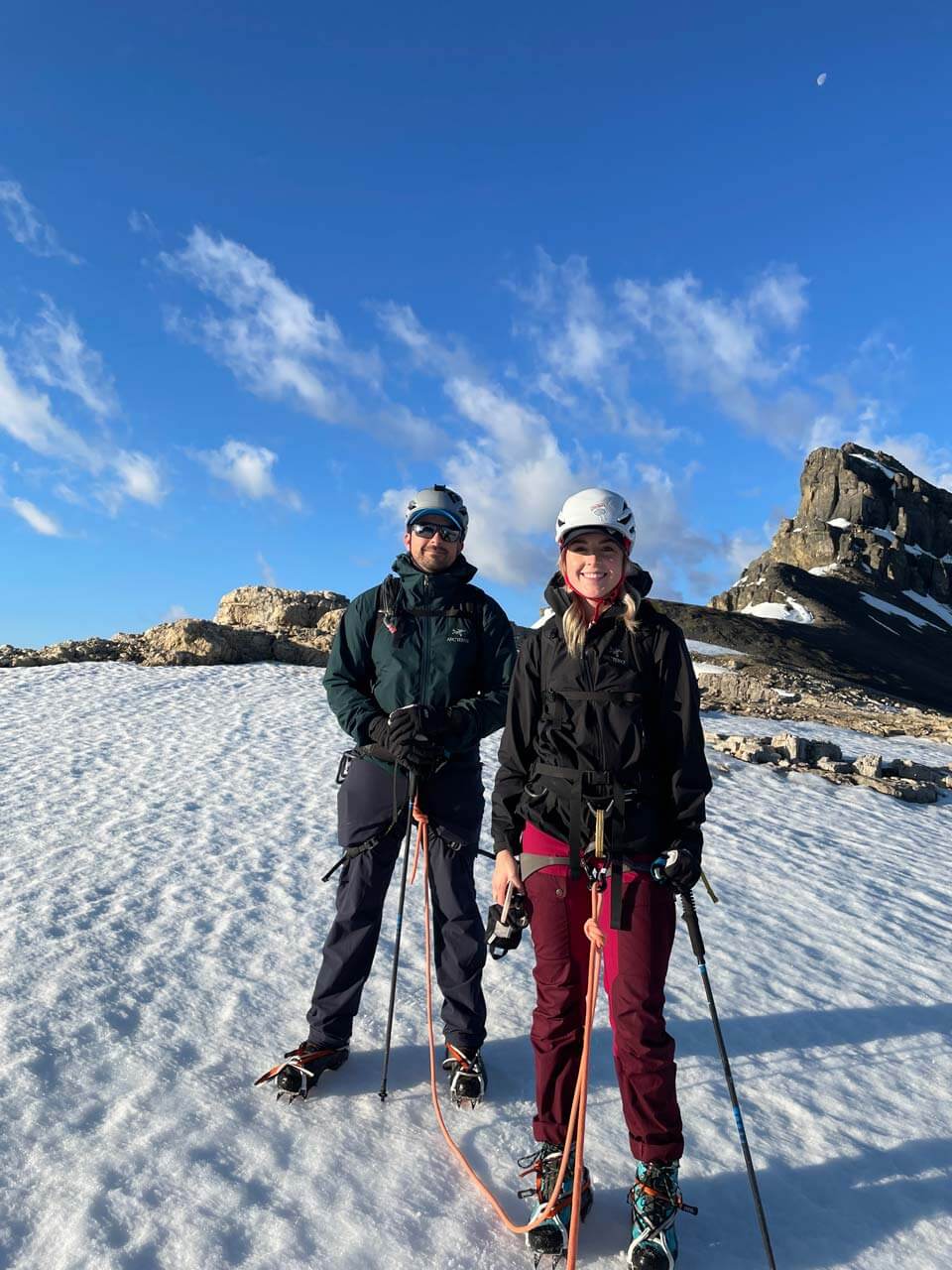 Time for a new Alpine adventure and great mountain vistas
Are you ready to take a thrilling leap into an extraordinary new adventure to untouched places? Look no further than a Heli-Glacier Adventure! New this summer, Girth Hitch Guiding has partnered with Rockies Heli Canada to offer a one-of-a-kind adventure. Soar through the sky and get an unbeatable view of glaciers, stunning mountains, and pristine lakes.
Enjoy breathtaking views of the rugged alpine terrain and get up close and personal with majestic snow-covered peaks. Whether you're a seasoned adventurer or an explorer looking for something new, our Heli-Glacier Adventure is sure to leave you in awe.
Just like all our other great adventures, you will be accompanied by an experienced mountain guide who will help make your adventure even more unforgettable with their knowledge, experience and guidance.
An Alpine Adventure for Anyone!
Did you love the thrill of the climb and views of the via ferrata? Did rock climbing give you a taste for the mountains and you want more? Or are you simply drawn to the majestic alpine views Canadian Rocky Mountains and long for a one-of-a-kind experience? Then this Heli-Glacier Adventure is for you! We are excited to share the alpine with a new kind of adventurer. An exciting adventure like this one is something that you'll cherish for years.
Girth Hitch Guiding thrives in offering outdoor enthusiasts – from beginner to expert – opportunities to experience the Alberta Rockies. From rock climbing the mountain cliffs to ice climbing stunning waterfalls, Girth Hitch Guiding offers guest-centered experiences that bring the best out of everyone. This Heli-Glacier Adventures is just another one of those opportunities. Adventurers of all levels welcome, ages 12 and up.
Explorers can come with little to no experience. Girth Hitch Guiding guides are experts in the mountains and come with confidence and experience that will put you at ease. We will take care of you every step of the way, from ensuring you are set with all the required equipment to sharing our knowledge about the vast wilderness around.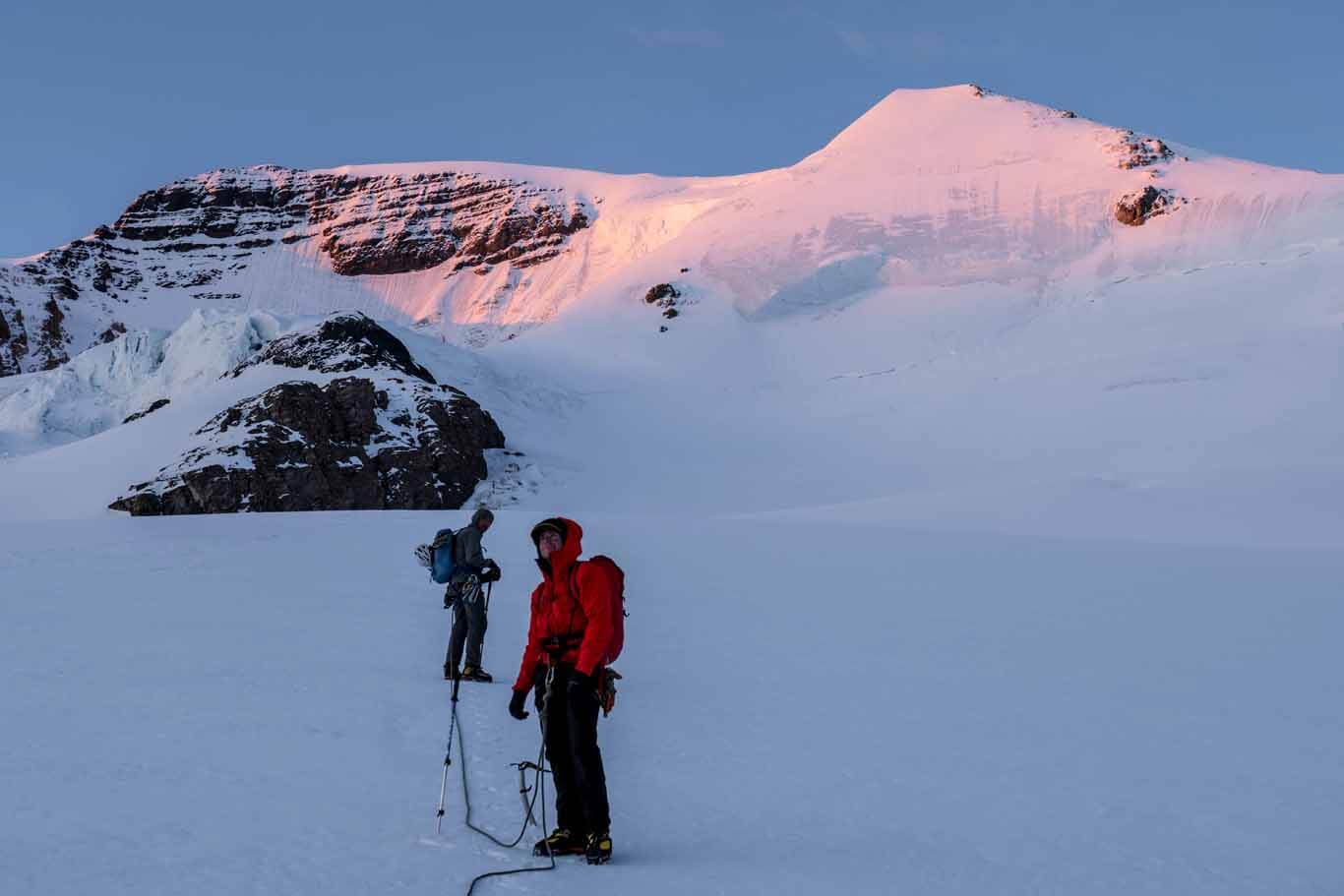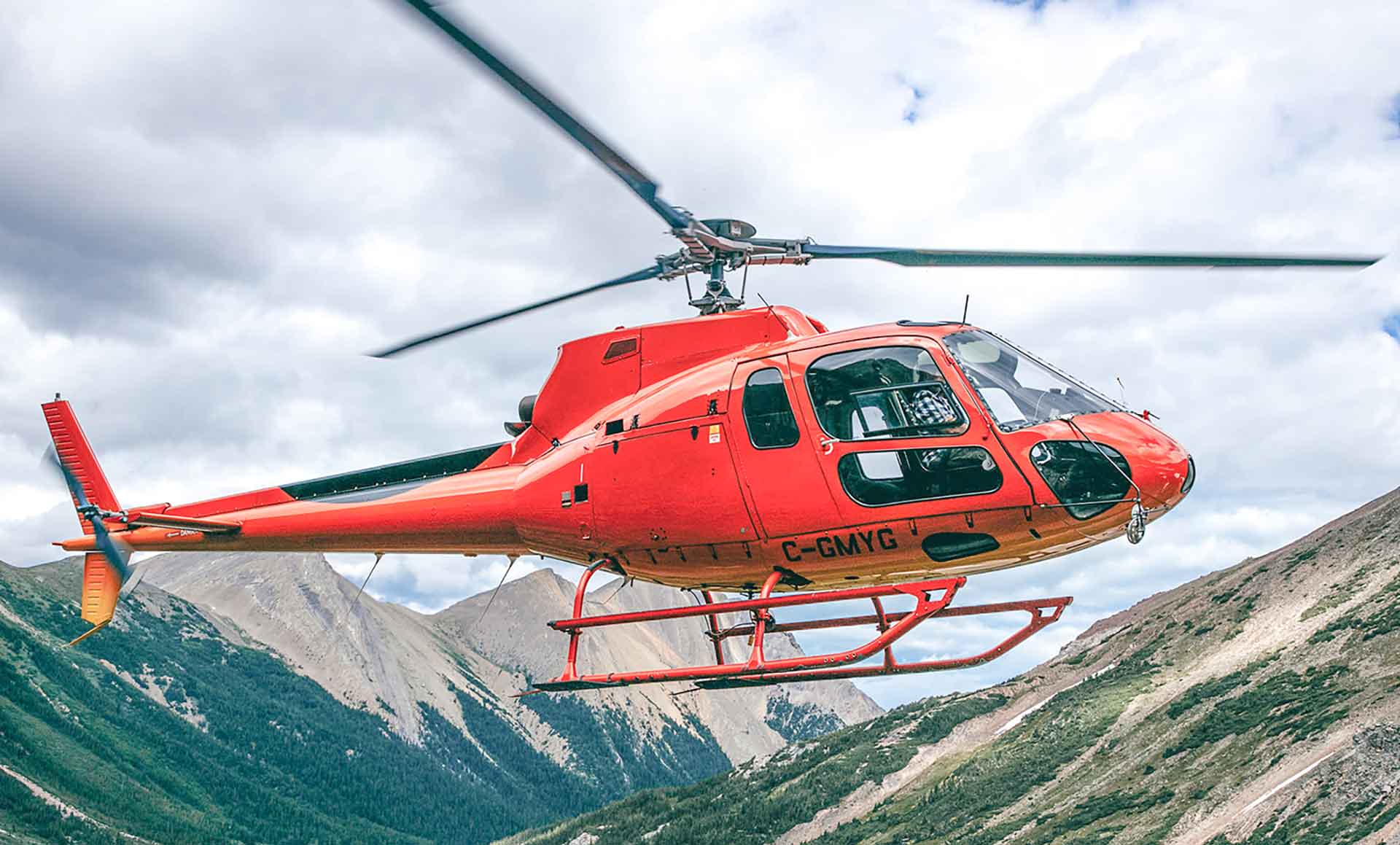 Get Ready to Fly!
The Heli Glacier Adventure allows you the thrill of alpine climbing without the hard work to get there. Get ready for a breathtaking journey from David Thompson Country to a majestic icefield! With this adventure, you'll soon be soaring high in a helicopter and taking in the stunning scenery below. From above, you'll get to take in sights like the Rocky Mountains, breathtaking waterfalls and remote alpine lakes. This will be a remarkable journey that will leave you in awe.
An Alpine mountain adventure is the perfect way to break away from your everyday routine.
Whether with a group of friends, family or team members, we all need a little taste of the mountains sometimes. Girth Hitch Guiding's online booking system makes it quick and easy to lock in your dates. We'll take care of all the details and provide you with all of the necessary and required equipment for the day. This equipment includes a gore-tex jacket, mountaineering boots, crampons, backpack, gloves, and a mountaineering axe. Girth Hitch Guiding will set you up for success! Once you're booked there's not much else to do – dress appropriately for the weather, pack a lunch and snacks, and don't forget your camera! With these items in hand, you'll be ready to explore nature in all its glory.
So don't wait – book your seat today and embark on an unforgettable alpine adventure!