What Makes the David Thompson Country a Winter Hotspot
Take scenic winter drive along Highway 11 in David Thompson Country located in Alberta, Canada. It's a great destination for those looking to experience a unique winter road trip and explore the beauty of Canada's Rocky Mountains. The highway runs east-west and is full of forests and majestic mountain views, making it an ideal spot for snow camping, ice canyon exploration, ice climbing, ice bubble hunting and other winter activities.
Lake Abraham, part of the North Saskatchewan river, is located just beside the David Thompson highway. It is a reservoir lake providing numerous recreational activities for visitors. Methane bubbles freeze as the lake freezes, making for one of the most enjoyable afternoons in the valley with incredible photo options.
The Icefields Parkway also connects to the highway at the far west end of David Thompson Country, offering even more stunning sights and opportunities for exploration. With its incredible natural beauty and abundance of winter activities, the David Thompson Highway is the perfect place to experience a Canadian winter road trip!
Planning Your Epic Road Trip through David Thompson Country
The David Thompson Highway is one of the most scenic road trips in Canada. Traversing the province of Alberta, the west end spans over 170 kilometers from Rocky Mountain House to Saskatchewan River Crossing and the Icefields Parkway, it takes you through some of the most beautiful landscapes in Alberta. Whether you're looking for an exciting weekend getaway or an epic road trip, planning your journey through David Thompson Country can help make it an unforgettable experience. Here are some tips to help you plan your trip along the David Thompson Highway.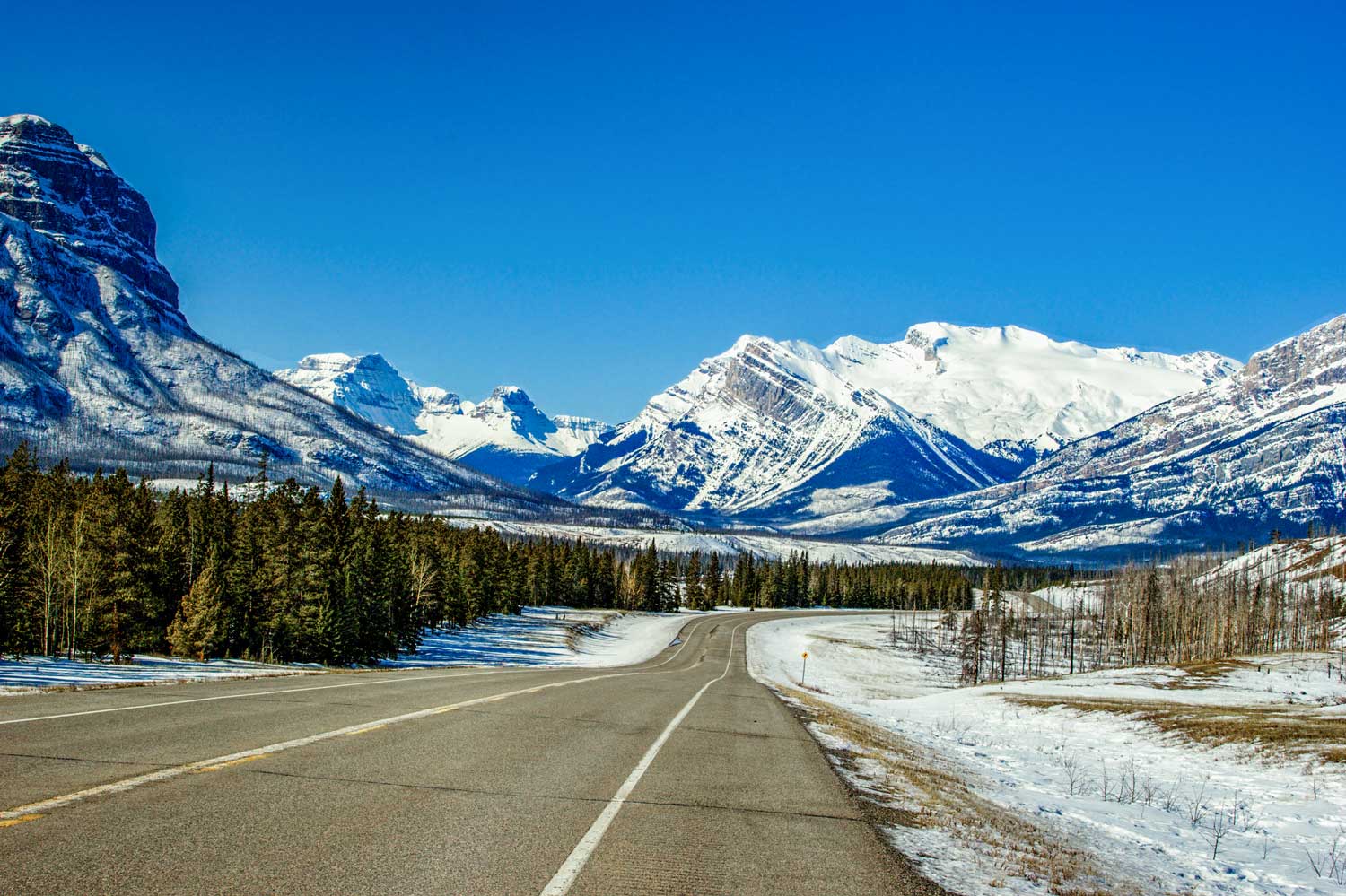 Key Things to remember:
Cell service is spotty, plan to be off the grid

Nordegg has food, lodging & fuel. There is also fuel at Bighorn Service near Crescent Falls.

There are many Alberta Parks parking lots along the highway and camping is allowed in many places with the Alberta Public Lands camping permit.

Many places, including Kootenay Plains are on important First Nations lands. Be respectful.

Most of the great stops are short, meaning you can string multiple awesome sights into one day.

Lake Abraham can have unstable ice. If you don't know where and what to look for, please hire an Ice Bubble Guide service.

In most places, ice spikes for your boots and hiking poles are a must.

Make sure you have enough food and water, as well as warm clothing and first aid. There is spotty cell service. You may be on your own out here.

Don't chop trees when camping. Bring firewood. Trees grow slower than you do.

Keep dogs leashed – there are still large animals out in winter, and open water and ice are extremely dangerous to dogs. 
Where to Stop Along the Way and Enjoy David Thompson Country?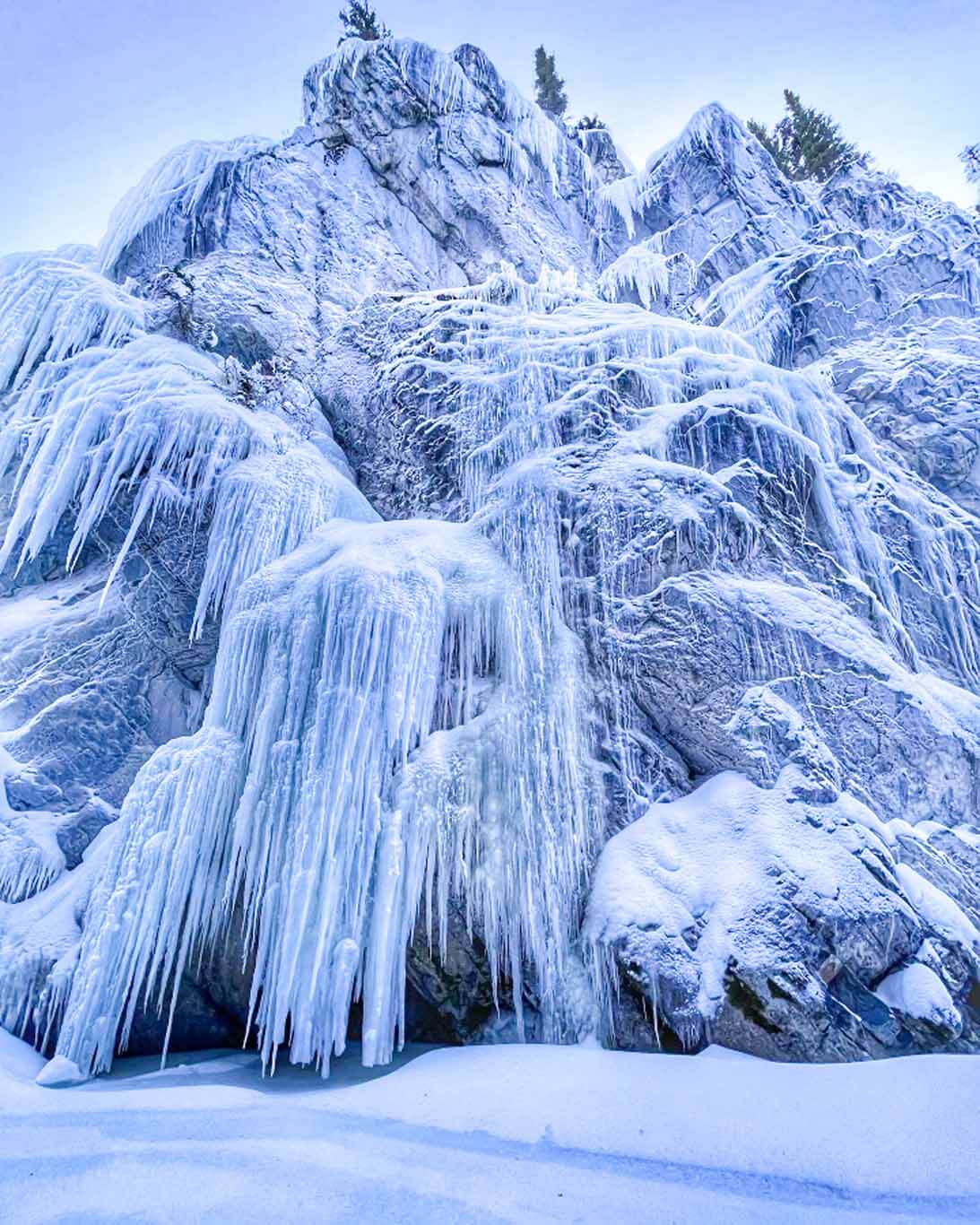 The David Thompson Highway is one of the most scenic drives in Alberta. It runs from Rocky Mountain House to the Saskatchewan River Crossing with the Icefields Parkway, and offers a variety of great outdoor activities along the way. From breathtaking views to unique natural attractions, here are some of the best spots to stop and enjoy nature along this beautiful highway.
Crescent Falls is a must-see destination in David Thompson Country. This stunning waterfall is surrounded by lush forest and offers spectacular views of the surrounding mountains. For a unique experience, check out Ice Bubbles on Lake Abraham – an incredible phenomenon where bubbles form in frozen water due to methane gas released from organic matter below.
For those looking for a more active adventure, Allstones Creek Ice Walk is an easy hike that takes you through an icy canyon filled with rock sculptures created by nature's handiwork. Another great spot for hikers is the Cline River – a medium difficulty hike to a frozen ice fall viewing – a moderate trail that leads you to stunning views of frozen water and an ice cold running river. Siffleur Falls is a longer hike with some of the most interesting terrain and minimal elevation gain.
The Top Things to Do and See on The David Thompson Highway in Winter
Visitors to Lake Abraham have the opportunity to take a tour of the area and take in its unique beauty. With local operator, Nordegg Adventures based in Nordegg, visitors can view the methane bubbles that form on its surface, often referred to as ice bubbles. There are many great spots to take photos of this rare phenomenon and visitors can even include a hike to see the Cline River Ice Falls. With this tour, visitors will be sure to get an up close and personal experience with nature's wonders at Lake Abraham. To book a tour, visit our Nordegg Adventures page.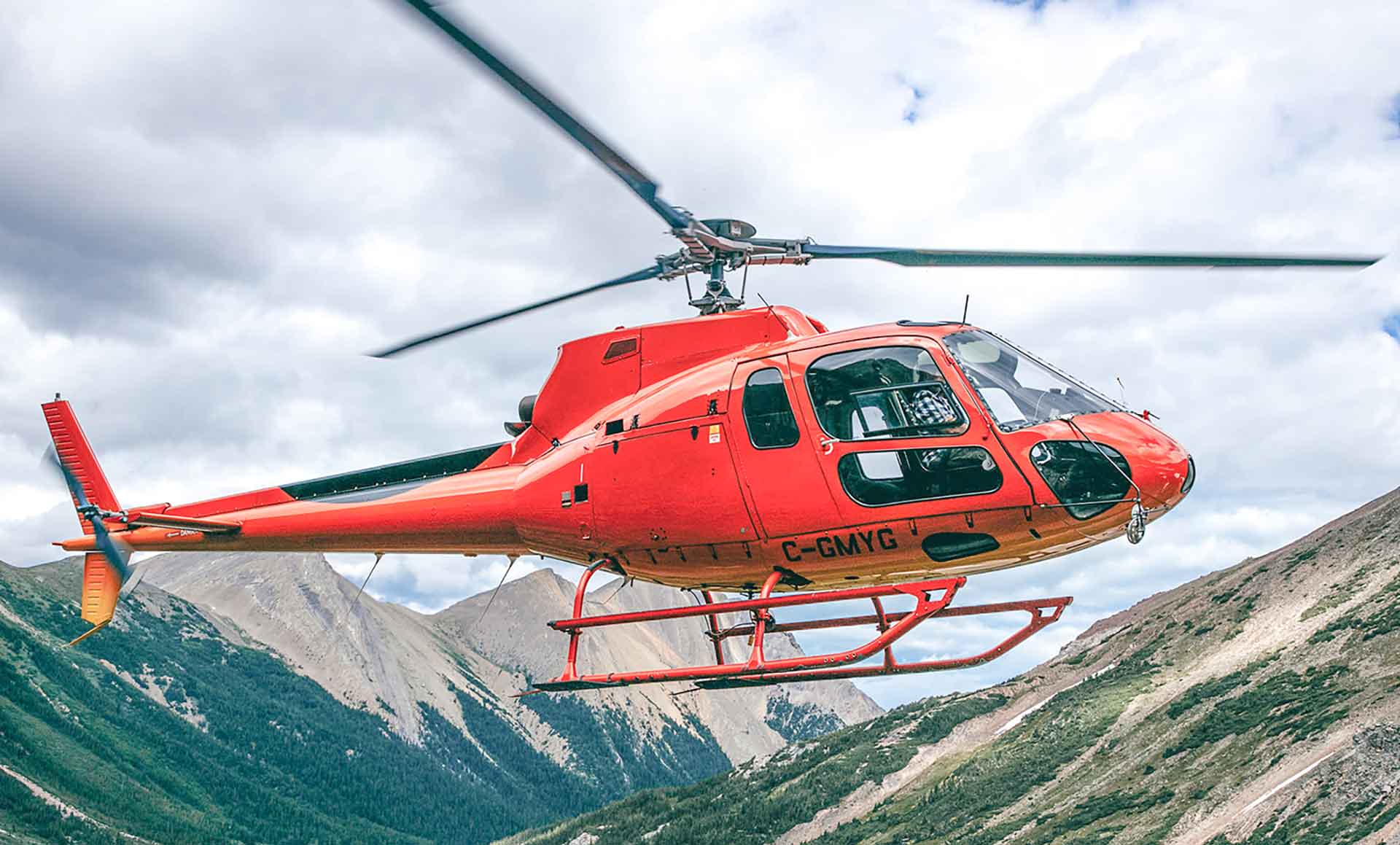 Rockies Heli Canada Helicopter Tours offer an exhilarating experience with views of the David Thompson Highway, Cline River Valley, and Columbia Icefield. Get a bird's eye view of glaciers as you soar over the majestic landscape. Enjoy breathtaking views of the Columbia Glacier, and take in the beauty of nature from a unique perspective. Experience an unforgettable journey with Rockies Heli Canada Helicopter Tours!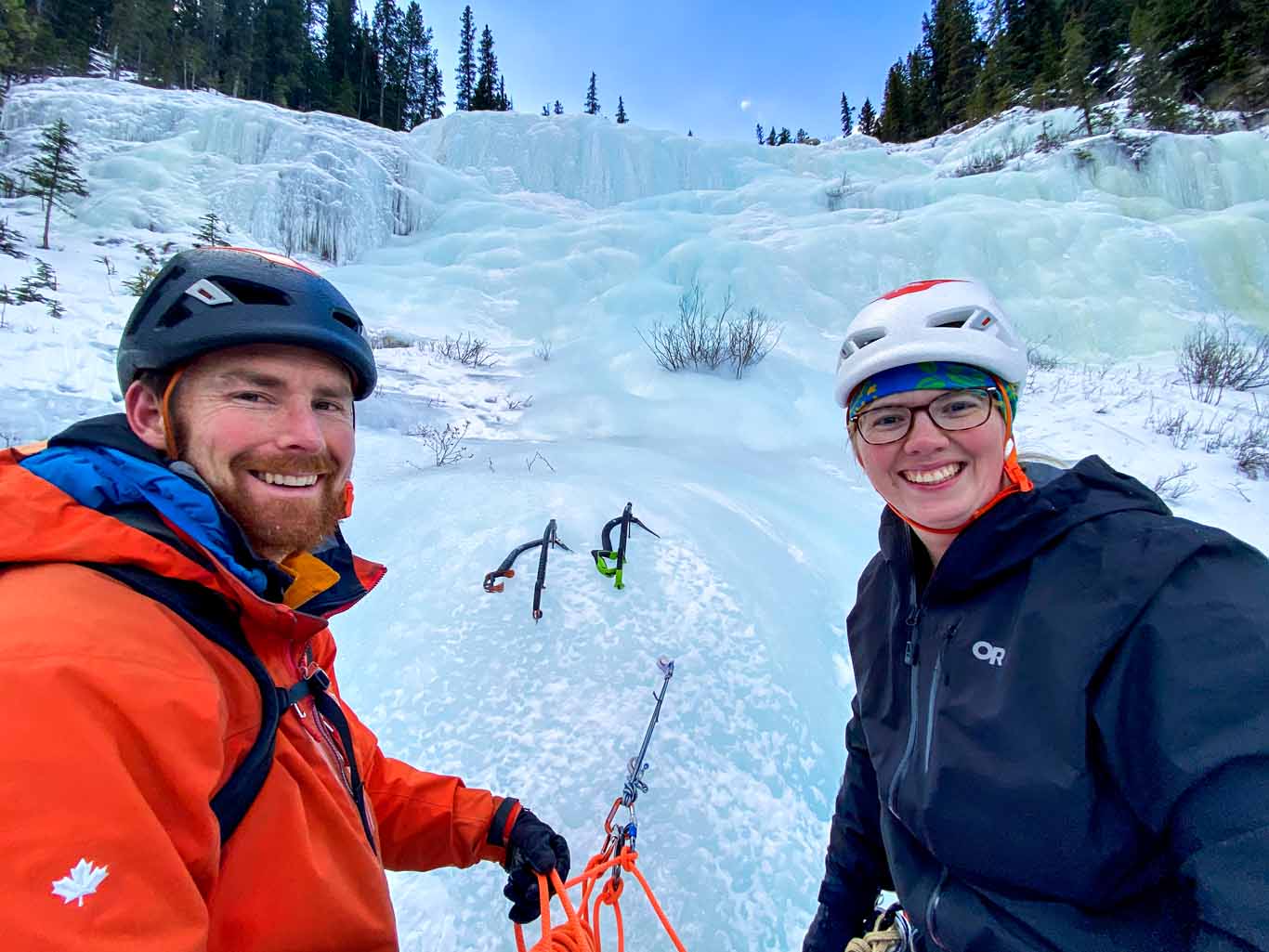 Girth Hitch Guiding offers exciting one-day and two-day ice climbing adventures along the David Thompson Highway in Nordegg. Climb a frozen waterfall, explore icy canyons, and learn safety tips and techniques from experienced ACMG guides. Get ready for an adrenaline rush as you experience the thrill of climbing some of Alberta's most beautiful natural ice formations. Learn more on our Winter Adventure page.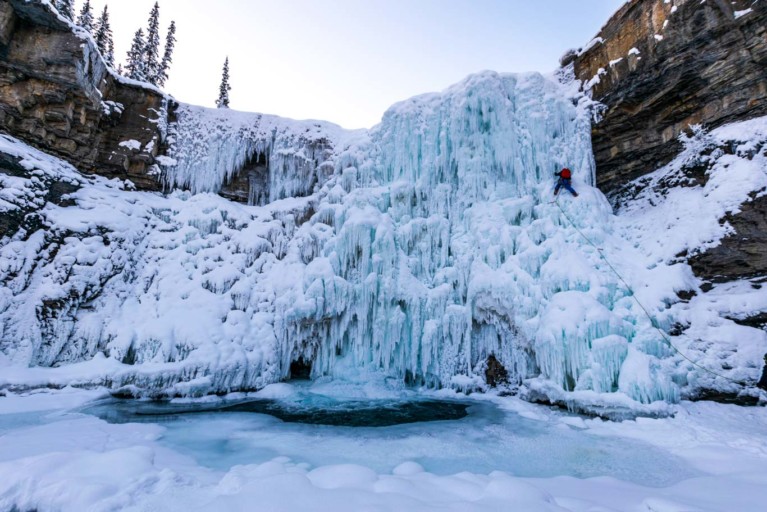 Stop for Lunch at Crescent Falls
Located just off the David Thompson Highway, is a breathtaking double waterfall and viewing platform. With easy access, safe parking, and a convenient lunch spot nearby, it's the perfect midday stop. Visitors can enjoy incredible views of the two cascading waterfalls from the viewing platform and take in the fresh air of their natural surroundings. Whether you're looking for a quick stop or a relaxing lunch, this is one experience you won't soon forget! Photo: Nordegg Adventures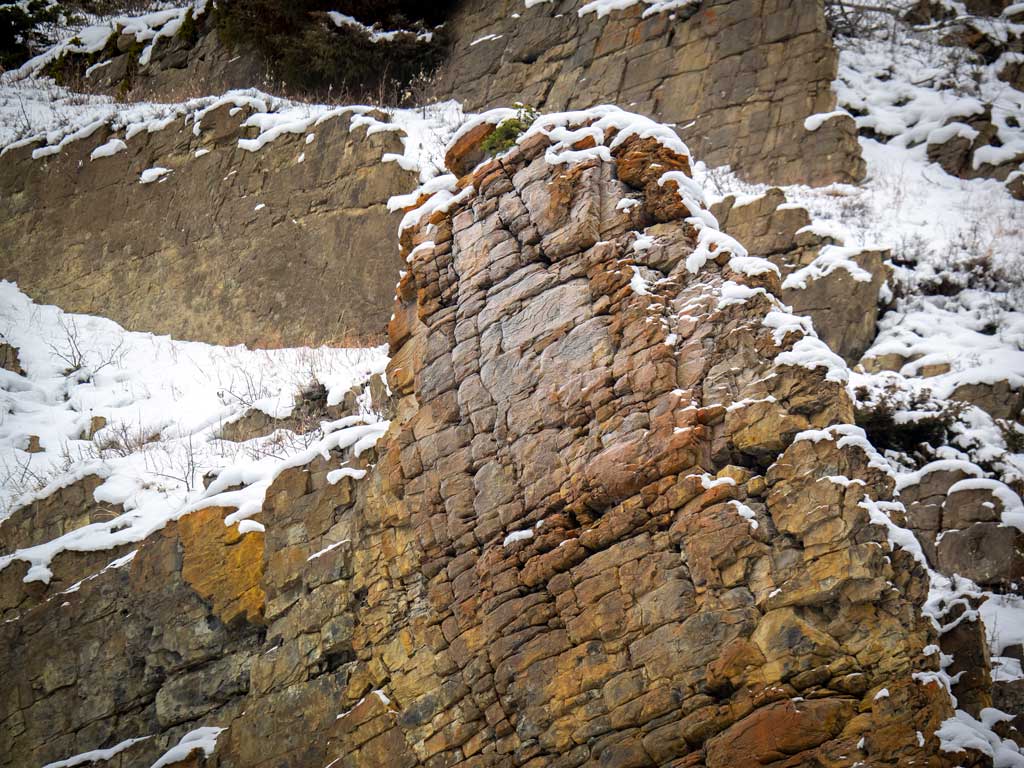 Ice Walk up Allstones Creek
Allstones Creek is a popular destination for hikers looking for an easy, short frozen creek-walk with unique rock formations and low elevation gain. It can be completed in 1 or 2 hours, and hikers should bring ice spikes to attach to their boots as well as hiking poles. Most people turn around at the makeshift ladder where the creek forms a short frozen waterfall. Park at the Allstones Creek pullout and then cross the highway and make your way down into the creek bed.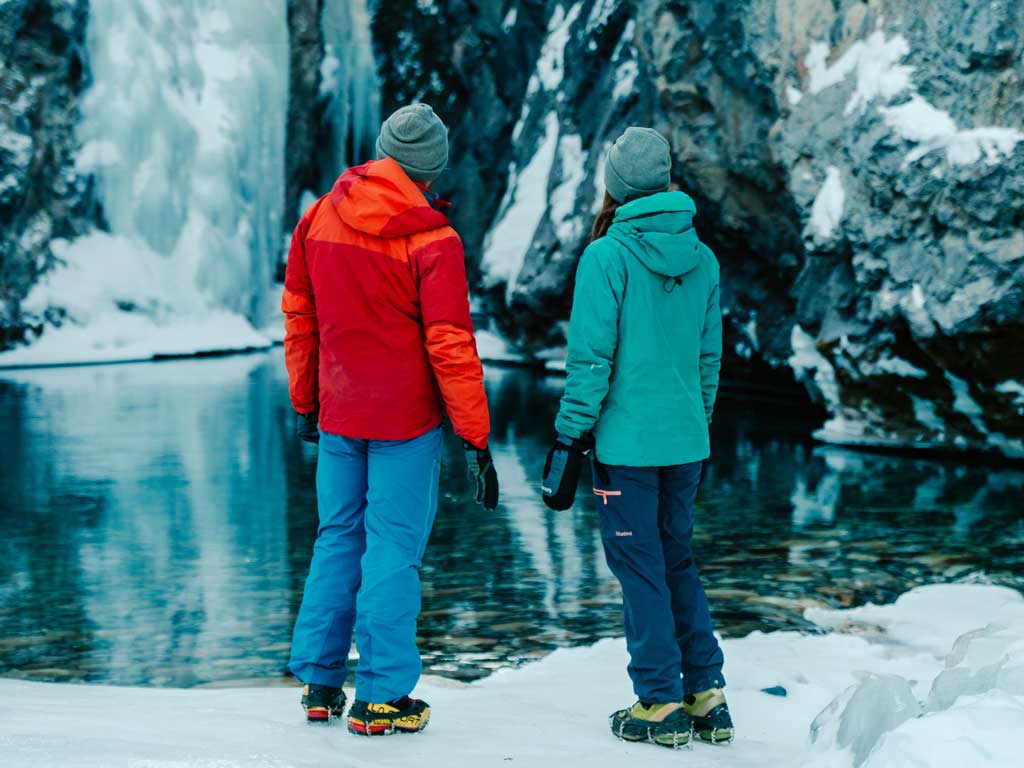 A one hour, medium difficulty hike to the Cline River frozen waterfall is the perfect adventure for you. Located along the David Thompson Highway on the north side of Cline River Bridge, this hike offers spectacular views of the prettiest spots along the highway. Ice spikes and hiking poles recommended. Park just west the Cline River bridge and get ready for an unforgettable experience! If you prefer, Nordegg Adventures offers guided hiking trips here and is well worth the effort!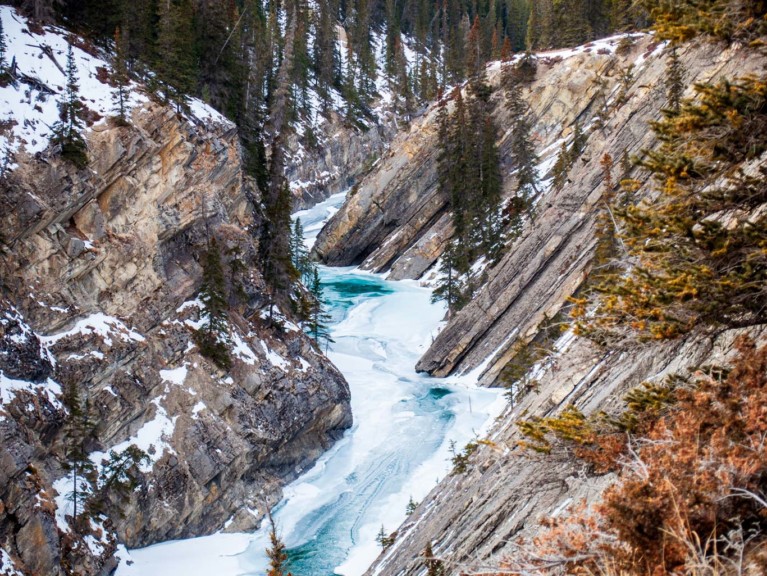 Winter Hike at Siffleur Falls
Take a longer hike on the south side of the David Thompson Highway and discover amazing sites, such as a suspension bridge, swirly pools, multiple frozen waterfalls. There are steep and dangerous banks here. Make sure to take caution when crossing the bridges and stay behind the railing at all times. This hike will take approximately 2-3 hours. Nordegg Adventures also guides this hike. Photo: Travel Alberta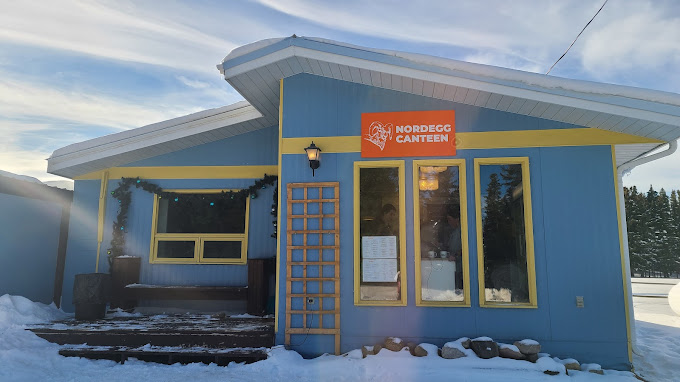 Stop and Shop And Eat in Nordegg
After (or before) your adventure in David Thompson Country, a stop in Nordegg is a must do. Rapidly becoming a must visit small town, you can buy homemade doughnuts and giant frensh fries at the Nordegg Canteen, Homemade pies at the Miners Café, and shop for locally made crafts and housewares at the Beehive Artisan Market. The gang over at Fas Gas are the nicest fuel stop you will ever have.
Nordegg also has one of the oldest 9 hole golf courses in Alberta! It is well worth a stop as well.
David Thompson Country in Alberta is the perfect winter destination for those seeking an adventure.
From Nordegg, you can experience the wonders of nature such as frozen ice bubbles, helicopter tours and ice climbing. It is important to drive safely and be prepared for any unexpected weather changes. Don't forget to bring a camera to capture the beauty of your journey! Enjoy the quiet solitude and create memories that will last a lifetime out here in David Thompson Country. To book an ice walk, or ice bubble tour, visit our Nordegg Adventures page.
For more on ice climbing, visit our adventure pages; for more on the other tours and attractions mentioned here, visit the links above or Travel Alberta's website.