For the curious adventurer, ice climbing is a thrilling way to challenge yourself with something new and take in beautiful views in the mountains. Getting started with this extreme sport can be intimidating — without the right gear and technique, climbers can risk serious injury. With this beginner's guide to ice climbing, you'll have everything you need to feel confident taking on one of Alberta's fantastic ice climbs in Nordegg, Banff or Jasper.

Before heading out for your ice climb, it's essential to have the right gear. Basic items include mountaineering boots, crampons, and a set of ice tools (axes), and a harness — but there are also additional safety tools like a helmet, rope, ice screws and quickdraws that will be required. Do some research before investing in any ice climbing equipment; for starters, read up on what type of crampons you need or which ice tool fit your hands and feel right for your body type. And don't forget a couple pairs of gloves to keep your hands warm, and a down jacket for the rest of you!
If you need to rent ice climbing equipment, we have partnered with Trailhead Climbing + Fitness in Red Deer to manage our rental fleet. If you book a tour with us, we will supply your equipment for the adventure!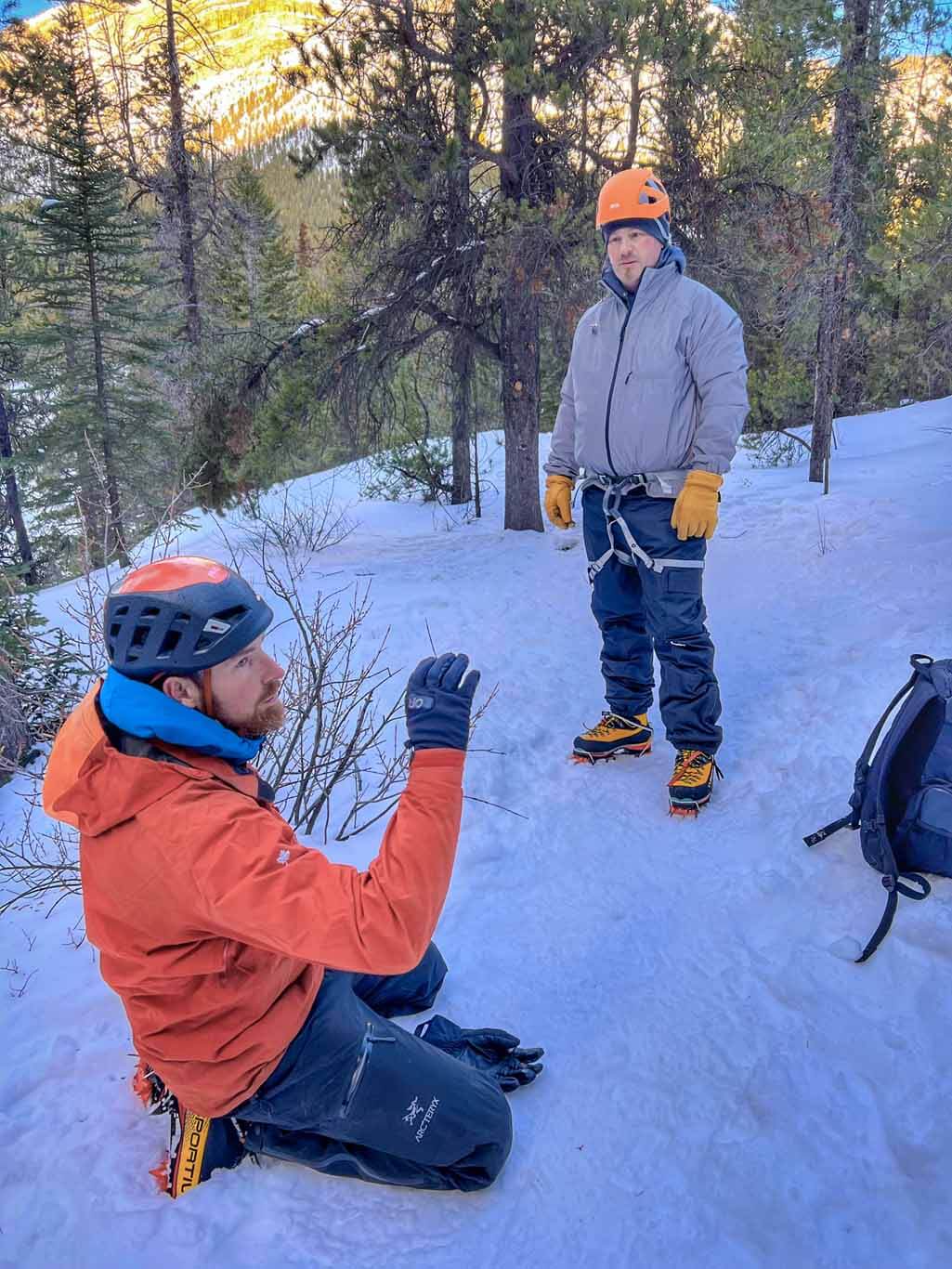 Next, Learn About Ice Climbing Safety Practices.
Making sure that you practice safety measures while ice climbing is of utmost importance. It's important to always be aware of your surroundings and plan ahead before attempting a climb. Make sure all your gear is in working order, that you have plenty of time for the activity, and that there are no extreme weather conditions like high winds or thawing ice.
Check with www.avalanche.ca for avalanche hazard. Also, complete the proper training before attempting a more technical route; this includes learning how to use specialized ice equipment for making v-threads, how to lead climb (it's different from outdoor rock climbing), and protecting yourself from cold-related injuries and illnesses, avalanche safety protocols, etc.
Understand the Basics of Ice Climbing.
Before climbing any route, it is important to understand the basics of ice technique. It is slower and more methodical than rock climbing which can be dynamic and at the edge of your abilities. You want to keep your weight on feet placed equal heights, with your heels down. Try not to swing outside your body to the left or right, it is too strenuous. Keep the ice tools placed to the centre of your body, one over the other. Keep an "A" frame stance. Take small steps and you will do fine!
Choose the Best Routes for Beginners.
When selecting a route to climb, it is important to choose the right difficulty level. For beginners, routes that have a flat staging area as well as low angle "stairs" or "ledges" are good choices. It is also helpful to choose routes that do not have major overhangs or dangerous overhead avalanche hazard. Routes like this require more experience and technique in order to successfully climb them and should generally be left for more experienced climbers.
What's Next?
There is a lot to learn when you are getting started ice climbing and a certified ACMG guide is best equipped to teach you and keep you safe. We are happy to help you learn to ice climb in our beautiful David Thompson Corridor, Banff, or Jasper. If you would like to learn from a certified guide, have a look at our ice climbing tours. Ice Canyon Adventure is a fantastic first step in your ice climbing career!